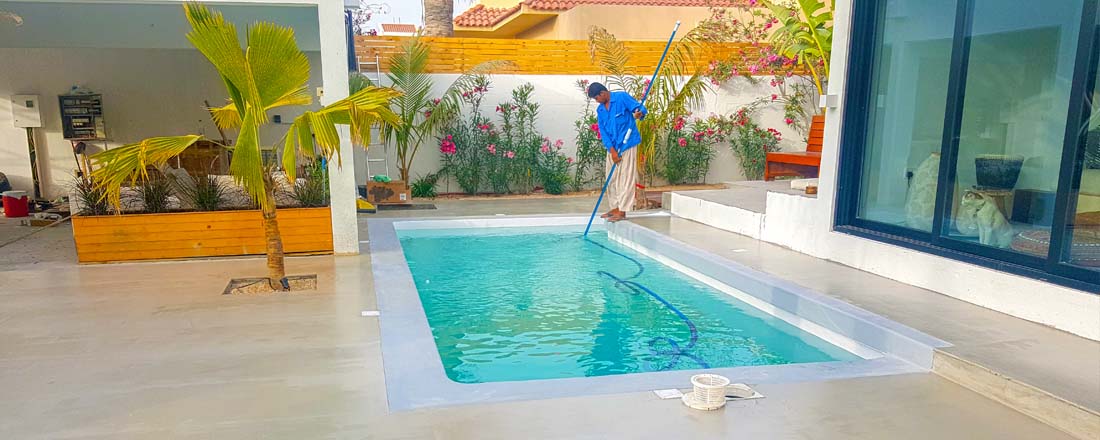 You have taken a great deal of care to design the perfect swimming pool for your home with Grand Touch Pools, and you have dreamed about enjoying your swimming pool with quiet afternoons spent poolside, entertaining around the pool with family and friends and more. Whether you have opted for an indoor pool, an outdoor pool or a spa, all swimming pools will require regular care and maintenance. Swimming pool maintenance is designed to keep the pool's surface clean and to keep the water sparkling, clear and safe for you and your family to swim in. Swimming pool maintenance includes cleaning the larger particles of debris from the water. These particles can settle on the bottom of the pool and create stains and discoloration, so they do need to be removed regularly. Maintenance also involves maintaining the chemical balance of the pool through water testing and adding the right chemicals to the water as needed on a regular basis. Further, cleaning the filters is also necessary.
As your swimming pool has been built by a bespoke designer and installer, we feel that its wise to entrust your pool maintenance to the same expert care. After all, no-one understands the design and construction of your pool better than us. All we want you to do is enjoy your pool, while leaving the work to our expert team at Grand Touch Pools.
Our pool maintenance service can be utilised year-round to ensure your pool is perfectly maintained without any additional time or attention required on your part. So why not consider one of our weekly, monthly or annual maintenance contracts that we offer at Grand Touch Pools to ensure you can enjoy your swimming pool each and every day.